From their early military origins to their growing impact on everyday life, these high-flying marvels are more than just remote-controlled toys. To celebrate this incredible technology, we've compiled a list of 25 amazing facts that will leave you wanting more.
Buckle up and get ready for takeoff as we journey through the extraordinary world of drones!
The first recorded use of a drone dates back to 1849 when Austrian forces attacked Venice with unmanned balloons loaded with explosives.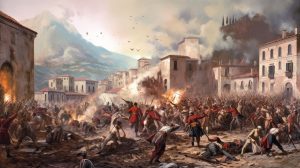 In 1849, during the First Italian War of Independence, Austrian forces sought an innovative approach to attacking the city of Venice, which was then under Austrian rule but had declared itself a republic. Austrian Lieutenant Franz von Uchatius, a military engineer, came up with the idea of using unmanned balloons loaded with explosives as a means of aerial attack. This was the first recorded use of a drone, or unmanned aerial vehicle (UAV), in military history.
The Austrians launched some 200 of these unmanned balloons filled with hydrogen and carrying 12-kilogram time bombs. A simple system of fuses and mechanical timers was used to control the detonation of the bombs. However, the balloons were at the mercy of the wind, making it difficult to predict their trajectory and accuracy. This led to a rather amusing turn of events.
As the balloons drifted across the sky, many Venetians found it fascinating to witness these mysterious flying objects. Some even took it as an opportunity to engage in some impromptu sport, using the balloons as targets for their rifles or trying to catch them with fishing nets. Little did they know that they were actually handling dangerous explosives.
Ultimately, the Austrian balloon attack was not particularly successful, as most of the balloons either missed their targets or failed to detonate. In one notable incident, a wayward balloon returned to Austrian lines and exploded, causing more damage to Austrian forces than to the Venetians.
Despite its limited success, this early use of drones in warfare demonstrated the potential of using unmanned aerial vehicles as a strategic military tool. The idea would continue to evolve over the next century, eventually leading to the development of modern drones and UAVs that have become an integral part of both military and civilian applications.
During World War I, the US military experimented with the Kettering Bug, an early guided missile and precursor to modern drones.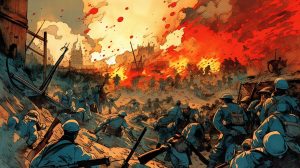 During World War I, the United States military experimented with an early guided missile known as the Kettering Bug. Invented by Charles F. Kettering and developed by the U.S. Army Signal Corps, the Kettering Bug was an early precursor to modern drones and marked an innovative step in the history of unmanned aerial vehicles (UAVs).
The Kettering Bug was an odd-looking contraption, featuring a biplane design with a wingspan of 15 feet and a fuselage made of paper-mâché and cardboard. It was powered by a 40-horsepower engine and used a simple mechanical system for navigation. The small aircraft carried a 180-pound explosive payload and was designed to travel a pre-determined distance before releasing its payload and crashing into the target.
Interestingly, the Kettering Bug relied on an unconventional method to control its flight distance. A small mechanism counted the number of engine revolutions, and when the predetermined count was reached, the engine would stop, and the wings would detach, causing the aircraft to plummet to the ground and detonate the explosives. Although rudimentary, this system was quite an inventive approach for its time.
While the Kettering Bug was never used in combat, it did undergo a series of tests that showcased its potential for aerial warfare. However, these tests also led to some amusing incidents. On one occasion, the aircraft was launched for a test flight but failed to release its wings as intended. Instead, it continued flying erratically, much to the bewilderment of the observing military officials. Eventually, the Bug crash-landed in a nearby field without any significant damage, but the spectacle left quite an impression on the onlookers.
Despite the Kettering Bug's shortcomings and its limited success, the invention demonstrated the potential of using unmanned aircraft in military applications. This early experiment paved the way for further advancements in UAV technology, eventually leading to the development of sophisticated drones utilized in both military and civilian sectors today.

The first target drone, the de Havilland DH.82B Queen Bee, was developed in the 1930s by the British Royal Air Force for aerial target practice.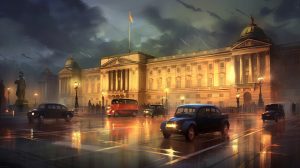 The de Havilland DH.82B Queen Bee, developed in the 1930s by the British Royal Air Force (RAF), was the first target drone created for aerial target practice. A derivative of the de Havilland DH.60 Moth, a popular British light aircraft, the Queen Bee was adapted for remote control, allowing pilots to practice air-to-air combat and anti-aircraft gunners to hone their skills without risking human lives.
The Queen Bee boasted a wooden frame, fabric-covered wings, and a fuselage made of plywood. It was designed to be launched from a catapult, controlled remotely from the ground, and recovered using a parachute. Over 400 Queen Bees were built, serving as a valuable training tool for the British military.
An amusing and perhaps lesser-known aspect of the Queen Bee's history is its connection to the etymology of the term "drone" as it pertains to unmanned aerial vehicles (UAVs). The name "Queen Bee" was chosen as a play on words, highlighting the aircraft's role as the "queen" of the target drones. The term "drone" itself is derived from the male honeybee, known for its buzzing sound and lack of a stinger. The male honeybee's primary function is to mate with the queen bee, and it does not participate in the hive's daily activities. The Queen Bee aircraft's name thus inspired the use of the term "drone" to describe pilotless aircraft.
This linguistic connection between the Queen Bee and drones may have influenced the popularization of the term "drone" in the context of UAVs. It is a testament to the lasting impact of this early target drone on the development and nomenclature of unmanned aerial vehicle technology. Today, drones are utilized in various military and civilian applications, and the term "drone" has become synonymous with UAVs worldwide.

The Radioplane Company, founded by Reginald Denny in 1940, produced drone models used in World War II for training anti-aircraft gunners and conducting attack missions.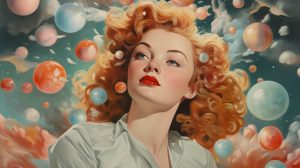 In 1940, British actor and model aircraft enthusiast Reginald Denny founded the Radioplane Company, which produced drone models used during World War II for training anti-aircraft gunners and conducting attack missions. The company's drones were initially designed as aerial targets for gunnery practice but later adapted for reconnaissance and other combat purposes.
An amusing and lesser-known aspect of the Radioplane Company's history is its connection to the discovery of a legendary Hollywood actress. In 1944, an army photographer named David Conover visited the Radioplane factory on a mission to capture morale-boosting images of female workers contributing to the war effort. One of the workers he photographed was a young woman named Norma Jeane Dougherty, who was assembling Radioplane target drones at the factory.
Conover was struck by Dougherty's beauty and charisma, and he encouraged her to pursue a career in modeling. She took his advice, and within a few years, she had transformed into the iconic Hollywood star known as Marilyn Monroe. While the Radioplane Company's primary legacy is its pioneering role in the development of military drones, it is also linked to the early career of one of the most famous actresses in cinema history.
The drones produced by the Radioplane Company laid the groundwork for the modern military and civilian drones used today. Meanwhile, the chance encounter between David Conover and Norma Jeane Dougherty at the Radioplane factory serves as a fascinating anecdote, illustrating the unexpected connections between the world of unmanned aerial vehicles and Hollywood stardom.

Nazi Germany employed various UAVs during World War II, including the Argus As 292 and the V-1 flying bomb with a jet engine.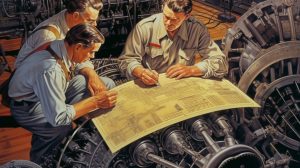 During World War II, Nazi Germany experimented with various UAVs, including the Argus As 292 and the V-1 flying bomb, which featured a jet engine. These unmanned aerial vehicles were intended for reconnaissance and offensive operations, showcasing Germany's technological advancements in the field.
A lesser-known and amusing detail about the Argus As 292, a reconnaissance UAV, is its connection to the German shepherd dog breed. The As 292 was designed to be a small, propeller-driven aircraft that could be easily launched by a catapult and recovered using a parachute system. The aircraft's primary purpose was to gather intelligence by capturing aerial photographs of enemy positions and installations.
To test the As 292, German engineers needed a way to simulate the weight and balance of the intended camera equipment without risking the expensive and sensitive equipment itself. They came up with an unusual solution: using a life-sized, weighted model of a German shepherd dog as a stand-in for the camera system. The German shepherd was chosen because its size and weight closely matched that of the camera equipment.
During the test flights, the As 292 carried the faux canine payload as it soared over the German countryside, providing engineers with valuable data about the UAV's flight characteristics and capabilities. This unique approach to testing allowed the engineers to fine-tune the design and improve the aircraft's performance before the actual camera equipment was installed.
This amusing anecdote about the Argus As 292 and its canine stand-in illustrates the creative problem-solving strategies employed by engineers during World War II. While the As 292 never saw widespread use in the conflict, it remains an early example of UAV development and a testament to the ingenuity of German engineers in their pursuit of aerial reconnaissance capabilities.

Israel used UAVs as decoys in the 1973 Yom Kippur War, prompting enemy forces to waste expensive anti-aircraft missiles.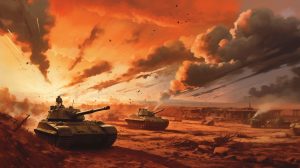 During the 1973 Yom Kippur War, Israel employed a clever tactic that utilized UAVs as decoys, provoking enemy forces to waste their expensive anti-aircraft missiles. This innovative approach showcased Israel's strategic thinking and the versatility of UAV technology in modern warfare.
An interesting and lesser-known aspect of this strategy was the specific UAV used in these decoy missions: the IAI Scout. The IAI Scout was a relatively small, propeller-driven UAV designed for reconnaissance and surveillance purposes. Its small size, lightweight construction, and relatively low cost made it an ideal candidate for the decoy mission.
To effectively lure enemy forces into targeting the UAVs, Israeli engineers modified the IAI Scout with electronic countermeasures and radar-reflecting materials. These enhancements made the UAVs appear as larger, more threatening aircraft on enemy radar systems, thus drawing their attention and provoking them to fire their costly anti-aircraft missiles at the decoys.
As enemy forces focused on targeting the decoy UAVs, they not only wasted valuable resources but also revealed the locations of their missile batteries. This information allowed the Israeli Air Force to carry out precision strikes on these installations, further depleting the enemy's air defense capabilities.
This innovative use of UAVs as decoys in the Yom Kippur War demonstrates the adaptability of unmanned aerial technology and its potential to shape the outcome of military conflicts. By employing UAVs in this unorthodox manner, Israel was able to gain a tactical advantage over its adversaries and achieve significant success in neutralizing their air defenses. The story of the IAI Scout and its decoy missions during the 1973 Yom Kippur War serves as an interesting and educational example of the evolving role of UAVs in modern warfare.

The IAI Scout, developed by Israel after the Yom Kippur War, was the first UAV with real-time surveillance capabilities.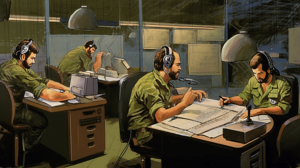 The IAI Scout, developed by Israel Aerospace Industries (IAI) in the aftermath of the Yom Kippur War, marked a significant milestone in the history of UAV technology as the first unmanned aerial vehicle capable of providing real-time surveillance. This innovative development changed the way militaries approached reconnaissance missions and greatly expanded the capabilities of UAVs.
An interesting and lesser-known aspect of the IAI Scout's development is its connection to an Israeli engineer named Abraham Karem. Born in Baghdad, Iraq, Karem immigrated to Israel as a teenager and later pursued a degree in aeronautical engineering. After working on the development of the IAI Scout, Karem decided to emigrate to the United States, where he believed he could further his career in the burgeoning field of UAV technology.
Once in the U.S., Karem founded his own company, Leading Systems Inc., in the garage of his Southern California home. Over the course of several years, he designed and built a prototype UAV called the Albatross. Karem's Albatross featured a number of innovations that would later become standard in UAV design, such as a lightweight composite airframe, a high aspect ratio wing for increased endurance, and a digital flight control system.
The Albatross caught the attention of the U.S. Department of Defense, which saw potential in Karem's design for long-duration reconnaissance missions. This led to the development of the Amber UAV, a larger and more advanced version of the Albatross. The Amber eventually evolved into the General Atomics MQ-1 Predator, which has since become a staple of U.S. military operations around the world.
The story of Abraham Karem, the IAI Scout, and the subsequent development of the Predator UAV illustrates the global impact of Israeli UAV technology and the pioneering work of engineers like Karem. The IAI Scout's real-time surveillance capabilities revolutionized the role of UAVs in military operations and paved the way for the sophisticated drone systems that are now widely used by militaries across the globe.
During the Vietnam War, the U.S. military deployed its first combat UAVs in the highly classified "Red Wagon" program.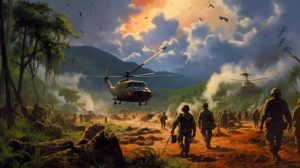 The Vietnam War marked a turning point for the use of unmanned aerial vehicles (UAVs) in military operations. The U.S. military deployed its first combat UAVs during this conflict as part of the highly classified "Red Wagon" program. This groundbreaking initiative demonstrated the potential of UAVs in combat situations and laid the foundation for the modern drone technology used by militaries around the world.
An interesting and lesser-known aspect of the Red Wagon program revolves around the involvement of Hollywood actor and inventor Reginald Denny. Prior to the Vietnam War, Denny had founded the Radioplane Company, which developed remote-controlled target drones for military use. These target drones were initially designed to help train anti-aircraft gunners but would later be adapted for reconnaissance purposes.
During the Vietnam War, the U.S. military sought to expand its use of UAV technology and turned to Denny's Radioplane Company for assistance. The company developed a new drone model called the Ryan Model 147, which was designed specifically for high-altitude, long-endurance reconnaissance missions. The Ryan Model 147 was equipped with sophisticated cameras and sensors that could capture valuable intelligence information while remaining undetected by enemy forces.
The Red Wagon program was so highly classified that only a select few within the U.S. military and government knew of its existence. In fact, when the North Vietnamese government released photographs of downed U.S. UAVs, the official response from the United States was simply "no comment."
The success of the Red Wagon program and the Ryan Model 147 during the Vietnam War highlighted the potential of UAVs in combat scenarios. This pioneering effort paved the way for the development of advanced drone technology that has since become an integral part of modern warfare. The story of the Red Wagon program, Reginald Denny, and the Ryan Model 147 provides an insightful and educational glimpse into the early days of combat UAV deployment and the critical role these unmanned vehicles have come to play in military operations worldwide.
The General Atomics MQ-1 Predator, introduced in the 1990s, was one of the first armed UAVs capable of both surveillance and targeted strikes.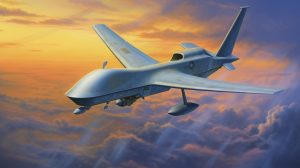 The General Atomics MQ-1 Predator, introduced in the 1990s, represented a significant leap forward in UAV technology, as it was one of the first armed drones capable of both surveillance and targeted strikes. This groundbreaking innovation transformed the landscape of modern warfare and has had a lasting impact on military strategy and tactics.
An interesting and perhaps lesser-known detail about the development of the MQ-1 Predator is its connection to the Israeli engineer Abraham Karem, who was mentioned earlier in relation to the IAI Scout. After moving to the United States, Karem founded his own company, Leading Systems Inc., and began working on advanced UAV designs. His prototype, the Albatross, evolved into the Amber UAV, which would later serve as the basis for the Predator.
Another intriguing aspect of the Predator's development is its modular design, which allowed for a variety of mission-specific payloads to be attached to the airframe. This versatility made the Predator a highly adaptable platform, capable of carrying out a wide range of missions. Initially, the MQ-1 was designed purely for reconnaissance purposes. However, following the events of September 11, 2001, the U.S. military saw the need for a UAV capable of conducting targeted strikes against enemy combatants.
In response, General Atomics integrated the AGM-114 Hellfire missile system into the Predator's design, transforming the UAV into a capable strike platform. This marked a major turning point in the evolution of UAV technology, as it demonstrated the potential for unmanned aerial vehicles to not only gather intelligence but also to engage targets directly.
The Predator's first successful Hellfire strike occurred in Afghanistan in 2002, marking the beginning of a new era in warfare. The combination of real-time surveillance and precision strike capabilities in a single, remotely piloted platform provided the U.S. military with an unprecedented level of tactical flexibility and operational effectiveness.
The development and deployment of the General Atomics MQ-1 Predator illustrate the rapid evolution of UAV technology and its significant impact on modern warfare. The story of the Predator's transformation from a reconnaissance drone to an armed strike platform provides a fascinating and educational insight into the ongoing development and use of unmanned aerial vehicles in military operations around the world.
In 2006, the FAA issued the first commercial drone permit, marking the beginning of the civilian drone industry.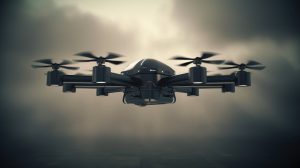 In 2006, the Federal Aviation Administration (FAA) issued the first commercial drone permit, marking a significant milestone in the civilian drone industry. This event paved the way for the rapid growth of the drone market, expanding its reach beyond military applications and into the realms of commerce, agriculture, and even entertainment.
One lesser-known yet sensational aspect of the civilian drone industry's early days is the story of the "TacoCopter." In 2011, as the commercial drone industry was taking off, a group of entrepreneurs in California came up with a novel idea: using drones to deliver tacos. The concept quickly gained traction and became a viral sensation, capturing the imagination of the public and showcasing the potential for drones in everyday life.
The TacoCopter was envisioned as a quadcopter drone that could autonomously deliver tacos to customers who placed orders using a smartphone app. The drone would fly to the customer's GPS location, hover at a safe height, and lower the taco using a small winch system. The customer would then retrieve the taco and send the drone on its way.
While the TacoCopter was initially intended as a tongue-in-cheek demonstration of the potential for civilian drones, it quickly gained widespread attention and generated serious discussions about the future of drone deliveries. The idea behind the TacoCopter spurred entrepreneurs and major corporations alike to consider the possibilities for using drones in logistics and transportation, eventually leading to the development of more advanced delivery drone systems by companies like Amazon and Google.
Unfortunately, the FAA's strict regulations on commercial drone usage prevented the TacoCopter from ever becoming a reality. However, the concept's viral popularity played a significant role in raising public awareness of the potential for civilian drones and encouraging further innovation in the industry.
The story of the TacoCopter, born in the early days of the civilian drone industry, serves as an amusing and intriguing example of how a creative idea can capture the public's imagination and inspire further developments in technology. It demonstrates the power of innovation and the limitless potential for drones in a variety of commercial applications, all stemming from the first commercial drone permit issued by the FAA in 2006.
In 2010, the Parrot AR.Drone was released as the first consumer drone with smartphone control, sparking a new era in consumer drone technology.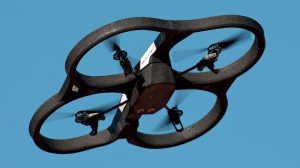 In 2010, the Parrot AR.Drone was released as the first consumer drone with smartphone control, sparking a new era in consumer drone technology. This revolutionary product signaled a shift in the drone industry, as it enabled everyday users to experience the thrill of piloting a drone without the need for extensive training or specialized equipment.
An interesting and surprising aspect of the Parrot AR.Drone's development is the company's background. Parrot, the French company behind the AR.Drone, was initially known for its expertise in wireless devices, specifically Bluetooth car kits and wireless speakers. The company's decision to enter the drone market was seen as a bold and ambitious move, given its lack of prior experience in the industry.
The development of the AR.Drone was inspired by a desire to create an interactive and immersive gaming experience, combining both the physical and virtual worlds. To achieve this vision, Parrot equipped the AR.Drone with a unique combination of sensors and cameras, enabling it to provide real-time video streaming to the pilot's smartphone. This feature, combined with the drone's smartphone control capabilities, allowed users to experience a new form of augmented reality gaming, where they could virtually race, battle, and perform stunts with their drones.
As the first consumer drone to incorporate smartphone control, the Parrot AR.Drone was met with great excitement and curiosity. It quickly captured the public's imagination and garnered significant media attention. Celebrities, such as the famous American talk show host, Ellen DeGeneres, showcased the drone on her show, further boosting its popularity.
The Parrot AR.Drone's release marked a pivotal moment in the evolution of consumer drone technology. It demonstrated that drones were not just limited to military or commercial applications but could also be a source of entertainment and enjoyment for the average consumer. The AR.Drone's success inspired a wave of new drone companies and innovations, leading to the growth of a multi-billion-dollar industry.
In summary, the story of the Parrot AR.Drone serves as an intriguing example of how an innovative product can disrupt an industry and inspire a new era of technological advancements. The AR.Drone's unique combination of smartphone control and augmented reality gaming paved the way for the consumer drone market we know today, all thanks to a company that dared to venture into uncharted territory.
Drones have been used for disaster relief, including assessing damage and searching for survivors after natural disasters like earthquakes and hurricanes.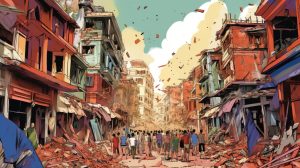 Drones have been used for disaster relief, including assessing damage and searching for survivors after natural disasters such as earthquakes and hurricanes. These versatile and agile machines have proven invaluable in times of crisis, enabling rapid response teams to make informed decisions and potentially save lives.
One notable and fascinating example of drone technology being used for disaster relief occurred in the aftermath of the 2015 Nepal earthquake. The 7.8 magnitude earthquake, which struck near the capital city of Kathmandu, left thousands dead, tens of thousands injured, and millions displaced from their homes. In the chaotic and devastated landscape, traditional search and rescue methods were hampered by the widespread destruction.
In response to this disaster, a team of engineers from the Humanitarian UAV Network (UAViators) came together to bring drone technology to the relief effort. Using a fleet of small, lightweight drones equipped with high-resolution cameras and GPS technology, the team was able to quickly assess the damage and create detailed maps of the affected areas.
One of the most exciting aspects of this mission was the use of cutting-edge photogrammetry software, which allowed the team to stitch together thousands of individual drone images into detailed 3D models of the disaster zones. These models provided a comprehensive bird's-eye view of the affected areas, allowing relief teams to identify the most damaged buildings and prioritize their search and rescue efforts accordingly.
Drones were also used to search for survivors in remote and hard-to-reach areas, such as the mountainous regions surrounding Kathmandu. Equipped with thermal imaging cameras, these drones were able to detect the body heat of trapped survivors, even if they were buried under rubble. This valuable information guided rescue teams to the exact location of survivors, potentially saving lives and speeding up the overall relief effort.
The Nepal earthquake relief effort demonstrated the immense potential of drone technology in disaster relief scenarios. By providing real-time, high-resolution imagery and data, drones enabled relief teams to make informed decisions and respond more efficiently to the crisis at hand. In addition, the use of advanced software and imaging techniques illustrated the continued evolution of drone capabilities and their increasing importance in a variety of humanitarian efforts.
In conclusion, the use of drones in disaster relief represents an exciting and innovative approach to addressing the challenges posed by natural disasters. As the technology continues to advance, the potential for drones to revolutionize disaster relief efforts and save lives is becoming increasingly clear.
Conservation organizations use drones to monitor wildlife populations, track poachers, and study hard-to-reach habitats.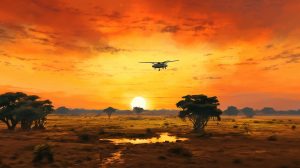 Conservation organizations use drones to monitor wildlife populations, track poachers, and study hard-to-reach habitats. The use of drone technology has significantly advanced conservation efforts, providing new insights and revealing previously hidden aspects of the natural world.
One notable example of drone technology in conservation is its use to study orangutans in Indonesia. These elusive primates live high in the forest canopy, making it difficult for researchers to track and observe them using traditional methods. In the past, conservationists have had to rely on climbing trees or using binoculars from the ground, both of which provide limited visibility and access.
Enter the drone: equipped with high-resolution cameras and thermal imaging, researchers have been able to capture detailed images and video of orangutans in their natural habitat, even from hundreds of feet above the ground. This aerial perspective has allowed researchers to gather valuable data on the primates' behavior, social structure, and interactions without disturbing their natural environment.
Another fascinating case of drone technology in conservation is in Africa, where drones have been used to combat poaching. In countries such as South Africa, Kenya, and Zimbabwe, poaching has decimated populations of elephants, rhinos, and other endangered species. Traditional anti-poaching methods, such as on-the-ground patrols, have struggled to cover large areas and detect poachers in real time.
To overcome this challenge, conservation organizations have begun using drones equipped with night vision and thermal imaging cameras. These drones patrol wildlife reserves, detecting the heat signatures of both animals and potential poachers. When a poaching threat is detected, the drones send real-time alerts to anti-poaching teams, enabling a rapid response to protect the animals. This innovative approach has helped reduce poaching incidents and improve the overall effectiveness of conservation efforts.
Drones have also been used to study hard-to-reach habitats, such as remote islands or dense rainforests. For example, researchers have used drones to map remote coral reefs in the Pacific Ocean, providing detailed images and data on the health of these fragile ecosystems. In the Amazon rainforest, drones have been used to explore and document previously unexplored areas, revealing undiscovered plant and animal species and providing critical information about biodiversity and ecosystem health.
Drones have revolutionized the film and photography industry, providing new perspectives and capabilities for aerial shots.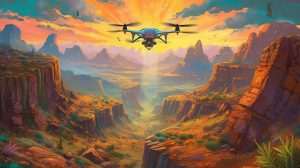 Drones have revolutionized the film and photography industry, providing new perspectives and capabilities for aerial photography. These unmanned aerial vehicles (UAVs) have changed the way filmmakers and photographers capture images, offering unprecedented creative freedom and cost-effective solutions.
Before drones, aerial photography and filming were limited to helicopters or fixed-wing aircraft. These methods were not only expensive, but also posed safety risks and required extensive logistical planning. The introduction of drones has made aerial photography more accessible to a wider range of creators, from independent filmmakers to professional photographers and even hobbyists.
One of the most groundbreaking uses of drone technology in the film industry was during the production of the 2015 adventure film, The Revenant. Cinematographer Emmanuel Lubezki used drones to capture stunning aerial shots of the rugged landscapes and intense action sequences. These aerial shots added a new dimension to the storytelling, and Lubezki's work on the film earned him an Academy Award for Best Cinematography.
Drones have also enabled photographers to explore previously inaccessible locations, such as remote islands, active volcanoes, or the heart of dense forests. This newfound ability to capture images from unique vantage points has led to a surge in innovative and stunning photography. In 2016, the National Geographic Travel Photographer of the Year Contest awarded its grand prize to a striking aerial photograph of a remote volcanic crater, a shot made possible by drone technology.
In addition to their creative applications, drones have played an important role in improving safety on film sets. Traditionally, aerial shots required camera operators to be in helicopters or on tall cranes, exposing them to potential hazards. Drones, on the other hand, can be operated remotely, reducing the risk to crew members and allowing filmmakers to take daring shots without endangering their crew.
Drones have also paved the way for new cinematic techniques, such as the "dronie" – a selfie taken from a drone. This technique has become popular with both professional and amateur photographers, offering a fresh take on the traditional self-portrait. Other innovative techniques made possible by drones include orbital shots, fly-throughs, and bird's-eye perspectives, which can add depth and excitement to visual storytelling.
The use of drones in the film and photography industry continues to evolve as technology advances and creative professionals discover new applications for these versatile tools. From capturing stunning aerial views to enabling safer film production, drones have undoubtedly changed the way we view and create visual content.
The agriculture industry uses drones for precision farming, including crop monitoring, irrigation management, and soil analysis.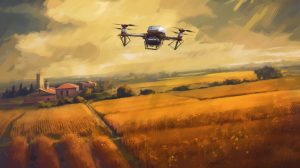 The agriculture industry is using drones for precision agriculture, including crop monitoring, irrigation management, and soil analysis. This application of drone technology has not only increased the efficiency and productivity of farming practices, but has also provided farmers with valuable insights that were previously difficult to obtain.
One notable use of drones in agriculture is their ability to detect crop stress long before it is visible to the naked eye. Equipped with multispectral sensors, drones can capture images of crops at different wavelengths, revealing subtle changes in plant health. By analyzing these images, farmers can identify stressed areas of their fields and take corrective action before the problem escalates, potentially saving their crops and reducing losses.
Drones have also enabled farmers to create detailed topographic maps of their land. By collecting elevation data, drones can create 3D maps that highlight variations in terrain. This information is invaluable for optimizing irrigation systems, allowing farmers to identify areas where water may pool or run off too quickly. By tailoring their irrigation strategies to the specific needs of their fields, farmers can conserve water and ensure their crops receive the right amount of moisture.
Soil analysis is another area where drones have revolutionized agriculture. In the past, soil samples had to be taken manually and sent to a lab for testing, a time-consuming and labor-intensive process. Today, drones can be equipped with specialized sensors that can measure soil moisture, nutrient levels and other key characteristics, providing farmers with near-instantaneous data. This real-time information allows farmers to make more informed decisions about fertilization, irrigation, and other key practices, ultimately improving crop yields and sustainability.
One surprising and innovative application of drones in agriculture is their use in pollination. With bee populations declining worldwide, some farmers have turned to drones as a potential solution to this pressing problem. Researchers have developed small drones equipped with devices that can transfer pollen from one flower to another, mimicking the role of bees in the pollination process. While still in the experimental stage, this novel use of drone technology holds promise for addressing the challenges agriculture faces due to declining pollinator populations.
The integration of drones into agriculture has opened up a world of possibilities for farmers, allowing them to more effectively manage their fields, conserve resources, and improve crop health. As drone technology continues to advance and become more accessible, it is likely that their role in precision agriculture will only grow, providing farmers with even more tools to optimize their operations and meet the global demand for food.
Amazon Prime Air, a drone delivery system, completed its first successful delivery in 2016.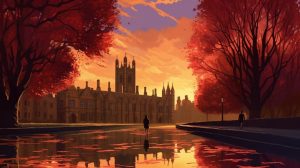 Amazon Prime Air, a drone delivery system, completed its first successful delivery in 2016, marking a milestone in the advancement of drone technology for commercial use. This innovative system aims to revolutionize the way goods are transported and delivered, with the potential to drastically reduce delivery times and increase efficiency.
The first successful delivery took place on December 7, 2016 in Cambridge, United Kingdom. The delivery drone traveled approximately 13 miles to reach the customer's home, where it gently deposited a package containing popcorn and a streaming device in the customer's yard. The entire process, from the moment the customer placed the order to the drone's arrival at its destination, took just 13 minutes. This impressive feat demonstrated the potential for drone delivery to provide near-instantaneous service for a wide range of goods.
What makes the Amazon Prime Air delivery system unique is its ability to autonomously navigate the skies while avoiding obstacles and other aircraft. The drones are equipped with an array of sensors and advanced computer algorithms that allow them to plan and adjust their routes in real time, ensuring safe and efficient transportation. In addition, the drones can take off and land vertically, enabling them to deliver packages directly to customers' homes without the need for runways or helipads.
During the initial testing phase, Amazon Prime Air delivery drones were limited to a maximum altitude of 400 feet and a payload of up to 5 pounds. While these limitations may seem restrictive, the company has stated that approximately 86% of items sold on Amazon weigh less than 5 pounds, making them suitable for drone delivery.
The use of drones for package delivery has sparked debate over privacy and safety concerns. To address these issues, Amazon has incorporated numerous safety features into its drone design, including redundant systems to ensure that the drone can continue to operate even if one component fails. In addition, the drones are programmed to maintain a safe distance from people, buildings, and other obstacles, minimizing the risk of accidents.
Although the first successful Amazon Prime Air delivery took place in 2016, widespread adoption of drone delivery services still faces regulatory hurdles and technological challenges. However, as drone technology continues to evolve and regulations adapt to these innovations, it is likely that drone delivery systems like Amazon Prime Air will become an increasingly common sight in our skies, transforming the way we receive goods and services.
Racing drones have given rise to the sport of drone racing, with events like the Drone Racing League (DRL) gaining popularity.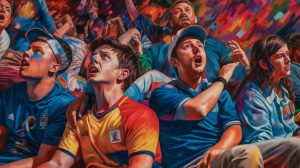 Racing drones have spawned the sport of drone racing, with events like the Drone Racing League (DRL) gaining popularity. Drone racing is a high-speed, adrenaline-pumping sport that combines the thrill of competitive racing with cutting-edge technology. Participants in drone racing competitions pilot small, agile unmanned aerial vehicles (UAVs) at breakneck speeds around obstacle-filled courses.
The Drone Racing League (DRL) was founded in 2015, and has since become the world's premier racing circuit for professional drone pilots. At DRL events, pilots wear first-person-view (FPV) goggles that receive live video feeds from cameras mounted on their drones. This immersive experience allows pilots to navigate the course as if they were sitting in the cockpit of the drone itself. FPV goggles have also become a staple of the sport, offering spectators a unique and exciting way to experience the action.
Drone racing courses are typically set up indoors, in large warehouses or arenas, and consist of a series of gates and obstacles that pilots must navigate at high speeds. To enhance the visual experience, LED lights and other visual effects are often used to create a futuristic, sci-fi atmosphere. The drones used in these races are custom-built for performance, with powerful engines, lightweight frames, and advanced flight controllers that enable precise maneuverability and rapid acceleration.
In addition to the professional DRL circuit, drone racing has also gained popularity at the grassroots level, with enthusiasts forming local clubs and organizing informal races. These amateur events often serve as a proving ground for aspiring drone racers, providing an opportunity to hone their skills and gain recognition within the racing community.
Drone racing has also attracted the attention of the mainstream media, with events being broadcast on major sports networks such as ESPN. This exposure has attracted sponsorship from well-known brands and led to the emergence of professional drone pilots who can earn substantial prizes and endorsements.
The rapid rise of drone racing as a sport has also led to the development of innovative technology specifically designed for racing drones. For example, advances in battery technology have resulted in longer flight times and faster charging, while improvements in video transmission have reduced latency and increased the quality of the FPV experience.
In summary, drone racing is a relatively new sport that has quickly gained traction in both professional and amateur circles. Combining the excitement of high-speed racing with the cutting-edge technology of drones, this dynamic sport offers a unique and exhilarating experience for participants and spectators alike. As drone racing continues to evolve and expand, it is likely to become an increasingly prominent fixture in the world of competitive sports.
Swarming drones, which can operate in coordinated groups, are being developed for both military and civilian applications.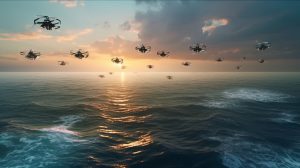 Swarming drones that can operate in coordinated groups are being developed for both military and civilian applications. These sophisticated systems use advanced algorithms and communication technologies to enable multiple drones to work together, share information, and respond to changing conditions in real time. This collaborative approach has the potential to unlock a wide range of applications and benefits that individual drones cannot achieve.
In the military domain, swarming drones are being explored as a means of enhancing battlefield capabilities. For example, groups of drones can be deployed for reconnaissance missions, using their collective intelligence to cover a larger area more efficiently. In more offensive scenarios, drone swarms can be used to overwhelm enemy defenses by attacking from multiple directions simultaneously, making it difficult for the enemy to counter the attack.
A notable example of military swarming technology is the U.S. Navy's Low-Cost UAV Swarming Technology (LOCUST) program, which aims to create swarms of small, affordable drones that can be rapidly deployed in combat situations. The LOCUST system allows multiple UAVs to be launched simultaneously and then autonomously coordinate their actions to perform a wide range of missions.
In the civilian sector, swarming drones have the potential to revolutionize several industries. In agriculture, for example, swarms of drones could be used to monitor crops more efficiently, covering large fields more quickly and collecting more data than a single drone could. This would allow farmers to optimize their resources and make more informed crop management decisions.
Another promising application is search and rescue, where swarms of drones can work together to cover large areas in a short period of time. By sharing information and coordinating their efforts, drone swarms can quickly locate missing persons or assess the extent of natural disasters, potentially saving lives and reducing the burden on emergency responders.
Swarming drones are also being explored for use in entertainment and artistic performances. Intel, for example, has developed a drone light show system called "Shooting Star," which uses swarms of drones equipped with LED lights to create dazzling aerial displays. These synchronized performances have been shown at high-profile events such as the Super Bowl halftime show and the Winter Olympics.
The development of swarming drone technology relies heavily on advances in artificial intelligence, communication systems, and sensor technology. As these fields continue to advance, swarming drones are expected to become increasingly capable and find new applications in both military and civilian contexts. With the potential to transform industries and enhance capabilities, swarming drones represent a fascinating and rapidly evolving area of drone technology.
In 2020, drone swarms were used for the first time in a military conflict between Armenia and Azerbaijan.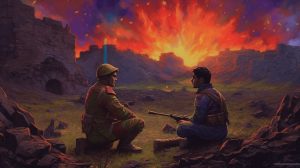 In 2020, drone swarms were used for the first time in a military conflict between Armenia and Azerbaijan, marking a significant milestone in the evolution of drone warfare. The conflict, which centered on the disputed region of Nagorno-Karabakh, saw both sides deploy various types of drones, including swarming drones, to gain an advantage in the battle.
Drone swarms, as mentioned above, are groups of drones that work together autonomously to achieve a common goal. In the context of the Armenia-Azerbaijan conflict, these swarms have been used for reconnaissance, targeting, and even conducting attacks on enemy positions. The use of drone swarms in this conflict demonstrated their potential effectiveness in modern warfare and highlighted the growing importance of unmanned aerial systems in military strategy.
A notable aspect of the conflict was the widespread use of Turkish-made Bayraktar TB2 drones by Azerbaijani forces. These drones played a critical role in Azerbaijan's military campaign, providing real-time intelligence and precision-guided munitions to neutralize Armenian targets. The success of the Bayraktar TB2 drones in the conflict was considered a game changer, leading to increased interest in drone technology from other countries.
In addition to more conventional drone systems, the conflict saw the deployment of Israeli-made Harop loitering munitions, which functioned as a hybrid between drones and missiles. These "kamikaze drones" were designed to hover over the battlefield and autonomously detect enemy radar systems before diving in and detonating their payload, causing significant damage.
The use of drone swarms in the Armenia-Azerbaijan conflict underscored the potential of unmanned aerial systems to shift the balance of power in a military engagement. The conflict demonstrated how relatively low-cost drone technology can be used to great effect, enabling smaller nations to challenge larger, more established military powers.
The use of drone swarms in the Nagorno-Karabakh conflict has raised concerns about the future of warfare and the potential for an arms race in drone technology. As a result, governments and military strategists around the world are closely monitoring the development of drone swarming capabilities and evaluating their own drone systems in light of these recent events.
Overall, the use of drone swarms in the Armenia-Azerbaijan conflict marked a significant turning point in the history of drone warfare, illustrating the growing role of unmanned aerial systems in modern military operations. The conflict served as a powerful reminder of the potential impact of drone technology on the global security landscape and has accelerated the race to develop new and advanced drone capabilities.
Drones have been used in search and rescue operations, significantly increasing the efficiency and success rate of finding missing persons.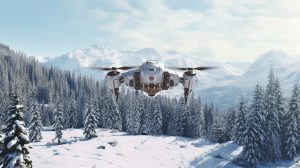 In August 2022, in the dense, remote forests of the Pacific Northwest, an extraordinary search and rescue mission unfolded in which advanced drone technology and the keen senses of search and rescue dogs formed a life-saving partnership. This unique collaboration demonstrated the incredible potential of integrating cutting-edge technology with the instincts and skills of well-trained dogs.
The mission began when a family of four, including two young children, became lost while hiking in the vast wilderness. As daylight faded, the risk of hypothermia and other dangers increased, and the urgency to find the family grew. Local search and rescue teams assembled, using both drones and canine units to cover the vast, rugged terrain.
The drones used in the operation were specially designed for search and rescue missions, equipped with advanced thermal imaging cameras, GPS tracking systems and high-resolution aerial mapping cameras. These drones were able to cover large distances quickly, identify potential areas of interest and relay real-time data back to search and rescue teams on the ground.
At the same time, search and rescue dogs, specially trained to detect human scent even in the most difficult conditions, were deployed to cover areas with their handlers. These dogs have remarkable olfactory senses that allowed them to track the scent of the missing family members.
The breakthrough came when one of the drones detected a faint heat signature in a densely wooded area. The drone operator relayed the coordinates to the canine teams, who then directed their search efforts to the designated location. As the dogs approached the area, their keen senses allowed them to pick up the family's scent, eventually leading the team to their exact location.
The family was found huddled together for warmth, exhausted and cold, but otherwise unharmed. The search and rescue teams led them to safety, where they were reunited with their loved ones.
The Whimsical Woof Rescue, as it became known, illustrated the remarkable synergy between drone technology and canine search and rescue teams. By combining the speed and range of drones with the natural instincts of search dogs, this unique collaboration has the potential to revolutionize search and rescue operations. This successful mission has inspired further research and investment in integrating technology with natural abilities, ushering in a new era of life-saving strategies.
Police and security forces use drones for surveillance and crowd control during large events.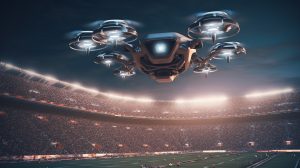 In recent years, drone technology has transformed the way police and security forces monitor and manage large events such as concerts, festivals, and political rallies. One of the most innovative and little-known applications of this technology is Project SkyFence, an ambitious initiative launched in 2021 by a European security agency to improve crowd control and event security through the use of advanced drone systems.
Project SkyFence sought to address the growing challenges of maintaining public safety at large events, particularly when faced with the risk of overcrowding, stampedes, and potential security threats. The project aimed to develop and deploy a network of interconnected drones equipped with state-of-the-art surveillance equipment to create a virtual "fence" around designated event areas.
These drones were equipped with high-resolution cameras and infrared sensors capable of capturing and transmitting real-time footage to a central control center. The control center used advanced AI algorithms to analyze the data, identify potential hazards such as overcrowding, bottlenecks, or suspicious behavior, and alert security personnel to take appropriate action.
One of the most innovative aspects of Project SkyFence was the development of specialized "dispersal drones" to aid in crowd control and de-escalation during emergencies. These drones were equipped with non-lethal tools, such as noisemakers and bright strobe lights, that could be used to disperse crowds in a safe and controlled manner. In addition, the dispersal drones were able to transmit verbal messages and instructions from security personnel, ensuring clear communication with event attendees.
Project SkyFence was first deployed during a major music festival in the summer of 2021, where it successfully demonstrated its ability to monitor, analyze and manage crowd movement throughout the event. The real-time data provided by the drone network enabled security personnel to quickly respond to potential hazards, prevent bottlenecks, and maintain overall public safety.
The success of Project SkyFence has led to its adoption by police and security forces worldwide, who have since deployed similar drone networks to ensure the safety of major events. By utilizing cutting-edge drone technology, Project SkyFence has revolutionized the approach to event security and crowd control, providing law enforcement and security personnel with invaluable tools to protect the public in an increasingly complex and challenging environment.
Solar-powered drones, like the Facebook Aquila and Airbus Zephyr, are designed to provide internet connectivity in remote areas by acting as atmospheric satellites.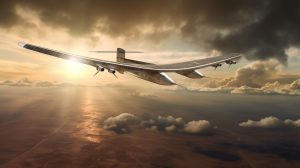 In a world where global connectivity is increasingly essential, bringing the Internet to remote and underserved areas remains a significant challenge. To bridge this digital divide, visionary projects such as Facebook's Aquila and Airbus' Zephyr have embraced cutting-edge drone technology to create solar-powered, high-altitude platforms that act as atmospheric satellites. This exciting initiative has the potential to revolutionize Internet connectivity in remote regions and usher in a new era of global communications.
The Aquila and Zephyr drones are designed to operate in the stratosphere, at altitudes of approximately 60,000 to 70,000 feet, well above commercial air traffic and weather systems. At these altitudes, they can maintain stable, continuous flight for extended periods of time, enabling them to provide consistent Internet coverage to large areas on the ground. Both drones are solar-powered, harvesting sunlight through an array of solar panels mounted on their wings. This allows them to stay aloft for weeks or even months at a time without the need for refueling or landing.
A key innovation in the design of these solar-powered drones is their lightweight, ultra-efficient airframe. To achieve the endurance needed for long-duration flights, the Aquila and Zephyr drones are built with advanced materials, such as carbon fiber composites, that provide exceptional strength while minimizing weight. In addition, their large wingspans, which rival those of commercial aircraft, allow them to maximize lift and minimize drag, further increasing their energy efficiency.
These high-altitude drones use sophisticated communications systems to provide Internet connectivity to the ground below. Using advanced laser technology and microwave links, they can establish high-speed data connections with ground stations that in turn distribute the Internet to local communities. This unique approach bypasses the need for costly infrastructure such as fiber optic cables or satellite dishes, making it an attractive solution for providing connectivity in remote or underdeveloped regions.
One of the lesser-known, but remarkable, successes of this initiative occurred during a pilot program in 2019. A remote village in the mountains of South America, which had been without internet access for decades, was connected to the global web for the first time through the use of an Aquila drone. Bringing internet connectivity to the village had a transformative effect on the community, allowing residents to access educational resources, health information and economic opportunities that were previously out of reach.
The innovative approach of the Aquila and Zephyr projects demonstrates the immense potential of solar-powered drone technology to bridge the digital divide and expand global connectivity. By reimagining the way we deliver Internet access to remote areas, these atmospheric satellites have the potential to reshape our world, bringing unprecedented opportunities for communication, education, and economic development to some of the world's most isolated communities.
Drones are being used for medical deliveries, including the transport of blood samples, vaccines, and medications to remote areas.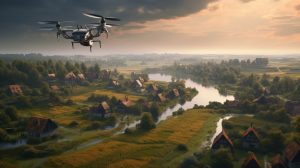 In the world's rugged and remote landscapes, access to medical supplies and health services can be severely limited, often with life-threatening consequences. To address this challenge, a groundbreaking initiative known as Operation Lifeline was launched in 2018, using drone technology to revolutionize the delivery of vital medical supplies to isolated communities. This remarkable project has overcome significant logistical obstacles, demonstrating the life-saving potential of drones in healthcare.
At the heart of Operation Lifeline is a fleet of specialized medical delivery drones designed to transport critical medical supplies such as blood samples, vaccines and medicines over long distances and difficult terrain. These drones are equipped with advanced navigation systems and customized payload compartments, allowing them to safely carry temperature-sensitive cargo while autonomously navigating their routes. With the ability to fly in all weather conditions and land in confined spaces, these drones have proven to be a versatile and reliable solution for reaching remote populations.
One of the most striking examples of Operation Lifeline's impact took place in a remote region of Africa, where a small village faced a sudden outbreak of a rare and dangerous disease. Located several days from the nearest medical facility, the village was in desperate need of a specific vaccine that could stop the spread of the disease. Traditional methods of transportation, such as trucks or motorcycles, were deemed too slow and unreliable due to the difficult terrain and unpredictable weather conditions.
In response, Operation Lifeline deployed a medical delivery drone to transport the critical vaccines from a regional health center to the remote village. The drone traveled the long distance in just a few hours and successfully delivered the vaccines to the village's makeshift health clinic. Health workers were then able to administer the vaccines to affected individuals, ultimately preventing further casualties and containing the outbreak.
Operation Lifeline's success in this case garnered widespread attention and inspired the expansion of the project to other remote regions around the world. In areas where infrastructure is lacking or natural disasters have disrupted traditional transportation networks, medical delivery drones have become an invaluable resource for healthcare providers. From transporting essential medicines to mountain villages in the Himalayas to delivering blood samples from remote island communities to mainland laboratories, these drones are transforming the way medical care is delivered in hard-to-reach places.
Operation Lifeline's inspiring achievements underscore the tremendous potential of drone technology to address pressing global health challenges. By enabling the rapid and reliable delivery of life-saving medical supplies to remote areas, this groundbreaking initiative is paving the way for a new era of healthcare innovation and accessibility, ultimately saving lives and improving health outcomes in some of the world's most isolated communities.
Underwater drones, or remotely operated underwater vehicles (ROVs), are used for deep-sea exploration, research, and underwater infrastructure inspections.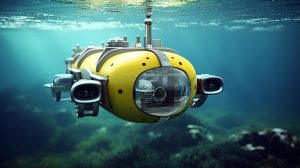 The mysterious and largely unexplored depths of the world's oceans have long captured the imagination of scientists and explorers alike. Despite covering more than 70% of the Earth's surface, much of the deep ocean remains unexplored and poorly understood. To overcome the limitations of traditional underwater exploration methods, a new generation of remotely operated underwater vehicles (ROVs), or underwater drones, has emerged to advance scientific discovery and improve our understanding of the vast underwater realm.
Equipped with high-definition cameras, powerful lights, and sophisticated sensors, these underwater drones have allowed researchers to access and document never-before-seen environments, from the crushing depths of the ocean's abyssal plains to the vibrant ecosystems surrounding hydrothermal vents. Their compact size and agile maneuverability allow them to navigate tight spaces and rugged terrain, capturing detailed images and data previously unattainable by manned submersibles or towed camera systems.
One of the most intriguing discoveries made possible by underwater drones occurred in 2017, when a team of marine biologists used an ROV to explore the inky depths of the Pacific Ocean. In a remote region known as the Mariana Trench, the drone captured stunning footage of a previously unknown species of jellyfish, dubbed the "ethereal jellyfish" for its ghostly, translucent appearance. This remarkable find not only expanded our knowledge of deep-sea biodiversity, but also highlighted the vast potential for discovering new life forms in the uncharted depths of the ocean.
In addition to their scientific applications, underwater drones have become indispensable tools for inspecting and maintaining critical underwater infrastructure such as oil and gas pipelines, telecommunications cables, and offshore wind turbines. Their advanced sensor suites enable them to detect and assess damage, corrosion and other problems, while their high-resolution cameras provide detailed visual inspections. This real-time feedback enables rapid, informed decision-making and targeted maintenance, ultimately improving the safety, efficiency and longevity of these critical structures.
One particularly notable application of underwater drones for infrastructure inspection took place in the North Sea, where a team of engineers used an ROV to conduct a comprehensive assessment of an aging subsea pipeline. The drone's high-resolution cameras revealed previously undetected signs of corrosion and structural weakness, allowing engineers to initiate immediate repairs and avoid a potentially catastrophic failure.
The transformative impact of underwater drones on deep-sea exploration, scientific research and infrastructure maintenance has ushered in a new era of oceanographic discovery and innovation. By providing unprecedented access to the ocean's hidden depths and enabling the collection of invaluable data, these advanced ROVs are expanding our understanding of the complex, interconnected world beneath the waves and shaping the future of marine science and technology.
Anti-drone technology, such as drone detection and tracking systems, is being developed to counter the potential misuse of drones in restricted or sensitive areas.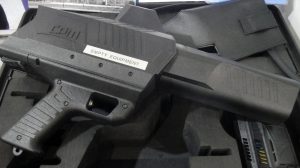 As the popularity of drones continues to grow, concerns about their potential misuse in restricted or sensitive areas have become more pressing. Unauthorized drone use near airports, military installations, and critical infrastructure can pose significant security risks. To address these challenges, a number of cutting-edge anti-drone technologies have emerged, representing a new frontier in the ongoing quest to protect sensitive areas from unwarranted intrusion.
Anti-drone systems encompass a wide range of innovative technologies designed to detect, track and mitigate the threat posed by unauthorized drones. These systems often use a combination of radar, acoustic sensors, radio frequency (RF) detectors and electro-optical cameras to identify and track drones in real time. Once a drone has been detected, anti-drone systems can employ various countermeasures to neutralize the threat, such as jamming the drone's communication signals or intercepting and disabling the device with directed energy weapons.
One of the more intriguing developments in anti-drone technology is the use of trained birds of prey, such as eagles, to capture and disable rogue drones. This unconventional approach, pioneered by the Dutch National Police, uses the natural hunting instincts and aerial skills of birds of prey to intercept drones in mid-flight. The birds are trained to recognize drones as prey and quickly disable them with their powerful talons. This biological countermeasure provides a unique, non-destructive method of neutralizing unauthorized drones, minimizing collateral damage and reducing the risk of harm to bystanders.
Another fascinating example of anti-drone innovation is the SkyWall 100, a handheld device developed by a UK-based company that physically captures drones using a net fired from a compressed air launcher. The SkyWall 100's advanced targeting system allows operators to track and engage drones with remarkable accuracy, while the inclusion of a parachute in the net ensures a controlled descent, minimizing the risk of injury or property damage. This portable, easy-to-use solution has attracted significant interest from law enforcement and security agencies seeking to protect sensitive areas from unwanted drone incursions.
As the potential applications and capabilities of drones continue to expand, so too does the importance of effective anti-drone technologies in securing sensitive areas. From trained raptors to state-of-the-art net launchers, the ongoing development of these innovative systems demonstrates the adaptability and ingenuity of human responses to emerging technological challenges. With the future of drone technology uncertain, the race to stay ahead in the field of anti-drone countermeasures will undoubtedly shape the landscape of aerial security and surveillance for years to come.